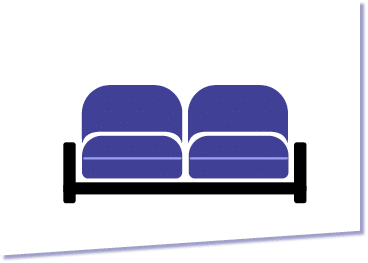 With regular use of upholstered furniture, it is only a matter of time before dirt and unpleasant odors accumulate in it. But even more dangerous is that parasites or dust mites settle in the beloved sofa or armchair. Many impurities are not obvious, but still significantly affect the indoor climate and hygiene. The situation is aggravated by the fact that the covers look dull or worn after some time.
Per seat unit (upholstered furniture)

41,00 €

Chair without upholstered back

12,50 €

Chair with upholstered backrest

15,00 €
Bring in your home textiles!
Come to our branch in Freital or another collection point. OR order the collection of your home textiles to be cleaned.
FREITAL BRANCH
Dresdner Straße 7, 01705 Freital
phone: 0351 / 649 40 40
e-mail: info@wascherei-dresden.de
OPENING HOURS:
Mo- Fr 08:00-18:00
Do you have any questions? Then contact us!
We are at your disposal for any questions you may have. You can reach us by phone or via our contact form.
We will get back to you as soon as possible.
Upholstery cleaning in Dresden: Advantages of a professional cleaning
Upholstery cleaning counteracts these signs of wear and tear. Our experts at DTR Bettenwäscherei offer you this service to remove emerging stains, odors, or discolorations from upholstery fabrics of armrests, back areas, or seats as residue-free as possible. Thus, the measure contributes to maintaining the value of upholstered furniture and hygienic cleanliness.
Our experts advise you to thoroughly clean the upholstered furniture with a vacuum cleaner at least once a week.
Our experts advise you to thoroughly clean the upholstered furniture with a vacuum cleaner at least once a week. However, you should keep in mind that cleaning upholstered furniture on your own will not keep it hygienically clean in the long run. Instead, specialists recommend professional upholstery cleaning at least once a year. For the cleaning procedures, our service providers have modern cleaning equipment at their disposal, which we use to clean your upholstered furniture flawlessly.
Details of professional cleaning
A great advantage of professional upholstery cleaning is that our experts have detailed knowledge of all important materials and surfaces of upholstered furniture. In addition, we use special cleaning agents that effectively fight impurities on your furniture. No matter whether your upholstered furniture is made of cotton, silk, microfiber, or other fabrics: We know what is important in a good upholstery cleaning. Additionally, we use special tools to get into the smallest crevices of the upholstery. We use a variety of methods, for example, using an individual spot treatment to combat particularly stubborn stains or to remove special soiling. We perform professional deep cleaning with the help of spray extraction methods or shampooing. To ensure long-lasting protection for your furniture, we also impregnate the sofas or armchairs with upholstery protection based on nanotechnology, if desired.
Top service from the expert
Benefit from the advantages of our top service, which of course leaves nothing to be desired. That's why our upholstery cleaning specialists are happy to come to you on request to perform the service on-site. With a professional upholstery cleaning, we help you to get your favorite pieces back in top condition. Thus, we effectively contribute to the longevity of your upholstered furniture. Do you have further questions about our service? Then simply contact us. We are looking forward to talking to you.