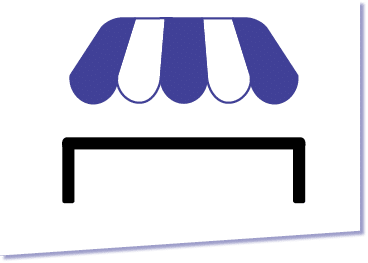 Awnings, sun sails, and sunshades are permanently exposed to weather conditions that leave their mark on every sunshade. In addition, green coverings, bird droppings, or dust affect the sails, sunshade fabrics, or awnings. In addition, green coverings, bird droppings, or dust affect the sails, sunshade fabrics, or awnings. In addition, cleaning improves their functionality and prevents dirt that is difficult to remove.
Umbrella fabrics

1,99 €/m²

Boat tarpaulins (incl. impregnation)

60,00 € per piece
Umbrella fabrics

3,91 €/m²
Bring in your home textiles!
Come to our branch in Freital or another collection point. OR order the collection of your home textiles to be cleaned.
FREITAL BRANCH
Dresdner Straße 7, 01705 Freital
phone: 0351 / 649 40 40
e-mail: info@wascherei-dresden.de
OPENING HOURS:
Mo- Fr 08:00-18:00
Do you have any questions? Then contact us!
We are at your disposal for any questions you may have. You can reach us by phone or via our contact form.
We will get back to you as soon as possible.
Professional cleaning for optimal functionality and hygiene
Sun and weather protection on the terrace, balcony, or in the garden must withstand special conditions. On the one hand, awnings, sun sails or sunshades should shade certain areas and, on the other hand, still allow sufficient heat to pass through. In addition to high water resistance or durability demands, the protective elements should be lightfast and a special visual eye-catcher. After a few years of continuous exposure to the sun, the risk of fabric seams being affected and tearing during the cleaning process increases. In addition, it is not impossible that dried or stubborn dirt can no longer be completely removed.
Cleanups at the beginning of the cold season
All these scenarios are prevented by professional cleaning by our experts. We recommend annual cleaning of awnings, sails, or umbrella fabrics, which should ideally be carried out after continuous summer use at the beginning of the cold season. These regular cleanings of the awnings or umbrella fabrics counteract the development of stubborn and difficult-to-remove stains. At the same time, under these circumstances, a particularly gentle cleaning of the garden utensils is possible.
Gentle care and impregnation
If possible, our specialists always rely on gentle care of garden and balcony equipment, as intensive scrubbing can severely damage the fabrics of awnings or awnings. In addition, we refrain from using aggressive cleaners, which attack the impregnation too much. To clean your awnings, awning fabric, or sunshades, we use special procedures or chemical agents. Depending on your needs, we also use high-pressure methods to restore your garden and balcony items to their original condition. For safety reasons and at your request, we also re-impregnate the fabrics.
Your advantages through us
Turn to our experts at DTR bedding laundry, from Dresden if you want us to clean your awnings, sun sails, or sunshades gently but effectively. Thus, we lay an important foundation for the long-term usability of your equipment for the garden, balcony, or terrace. Do you need more information about our services or individual procedures? Then simply contact us. We will be happy to answer your questions.